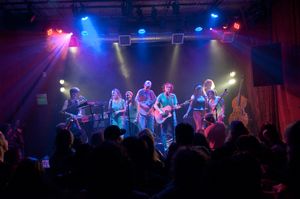 As a professional audio engineer and equipment provider, Robin has flawlessly managed multiple sound systems for large festivals, venues, street fairs and corporate events. Working closely with clients and artists through the entire process, Robin will take the stress out of this large piece of the event puzzle
Robin is the best! His sound is absolutely fantastic! I've worked with Robin on large community events like MLK Day (with speakers that include elected officials and constantly changing musical and spoken word performances), as well as intimate house concerts, and have enjoyed his great sound at festivals. No matter the size or type of event, Robin brings the same commitment to quality, special talent for getting the sound just right, and his natural, incredible ease of working with others to every engagement. I know I am listening to a Robin Applewood show or event when I hear the vocals and mixing, always alive and shining perfectly with the vibe and intention of the song. I can't recommend him more highly!
Robin was great. He provided the sound for a performance evening. He grought all the equipement, set up with his assistant Chris, made everyone sound good, provided music before and after the performances, and stripped everything down after the event. He was easy to work with, knew what he was doing, and completely handled it. I'm grateful he did the sound and I'm happy to recommend him.
Robin provided equipment and mixed sound for a private event of over 350 people in Northern CA. He did excellent work from beginning to end. He interacts well with bands, with lighting people, and other teams. He was on schedule and he communicated well and forged lots of solid relationships with the people around him. Robin's sound equipment was also excellent and our event sounded better than ever. I highly recommend Robin for mixing your live event.
Robin was super professional, reasonably priced, good natured and an amazing sound engineer. I was recovering from laryngitis at my album release concert, and whatever Robin did with my voice coming through the sound system, made it sound so much better than what I would have thought. He balanced all the different vocalists perfectly with the instruments. He was very responsive and easy to work with. Highly recommended!!
I've had the pleasure of working with Robin on a number of events and couldn't recommend him more. He's professional, responsive and all-around good person. I enjoy his versatility from managing the sound during our live shows, providing equipment and he's a talented musician & DJ.